spathe
The bract that grows from a aroid's spadix.
Spathes are often modified to act as petals,
trumpts and elaborate traps
see also Aroids.
Whats in the Name?
Gardeners have been bombarded by many messages on how important it is to use botanical names, so I won't bother again here. What I would do instead is explain how the system works, how some of the names came about and hopefully at the end win you over to start using them.
Binomial Name
Botanical names use the binomial system, invented by Carolus Linnaeus, 18th century botanist, and also used in Zoology, Bacteriology and to some degree, Herbalism. This Wikipedia article, Binomial nomenclature, has a pretty good description, abeit too much on the technical side.
Essentially the name has two parts. The first part identifies the genus and the second part, species. For example Coreopsis tinctoria, Coreopsis is the genus name and tinctoria is the species name. The genus name identifies the plant as a tickseed and the species name identifies it as a specific type of tickseed that was used as a dye.
The genus name is always written with upper cased first letter whereas the species name is always written in all lower case. Both names are also italicised.
Latin
The names are either in Latin or have been Latinised. Latin has three genders, Male, Female and Neuter. The gender of generic and species names have to agree.
For example, Costus speciosus, Hebe speciosa and Dendrobium speciosum all have species names derrived from the same Latin word, speciosus, meaning showy. Costus is male and the species name takes on the masculine form. Hebe is female and therefore the species name is in the feminine form, and Dendrobium is neuter, with the corresponding form in the species name.
Lower ranks
Sometimes a species can have variants, especially if its range is large. Botanists use a number of lower ranks to describe these variants. The ranks are:
| Rank | Latin | Abbreviation |
| --- | --- | --- |
| sub-species | sub-species | subsp. |
| variety | varietas | var. |
| sub-variety | sub-varietas | subvar. |
| form | forma | f. |
| sub-form | sub-forma | subf. |
There are no rules as to which rank botanists and is often left up to the individual preferance or dictated by local customs. For example Lithops hallii var. ochracea, Lithops is the genus name, hallii is the species name, and ochracea is the variety name. This identifies the plant as a variety of Lithops hallii that has ocre colouring.
Authority
In botanical circles, the plant name is usually followed by an abbreviation of the accepted publication and author where the plant description is publised. For example, turmeric is Curcuma longa, L. The abbreviation L. refers to Linnaeus who published the plant in his catalogue. The International Code of Botanical Nomenclature (ICBN) keeps a list of authors and their abbreviations. Binomial names on this web site do not reference the authority.
Hybrid Names
An inter-species hybrid (or just hybrid) is created when two different species are crossed. Not every species will hybridise, and in fact, only very few species will hybridise, but species in certain genera, for example orchids, hybridise readily. In the past, hybrids were also given Latin names. This practise causes confusion and is no longer allowed, but old Latin hybrid names are still in use. For example, Calanthe Veitchii, first registered by Veitch in 1860 as a cross between Calanthe rosea and Calanthe vestita.

Calanthe Veitchii was named after James Veitch
Modern hybrids must not have Latinised names. The hybrid name should also be written in mixed case and in Roman fonts (not italics). For example, Dendrobium Hilda Poxon is a hybrid of Dendrobium speciosum and Dendrobium tetragonum, registered in 1977.
Natural Hybrids
A natural hybrid is a population of plants in the wild that has arrisen as a result of natural crosses between two species. Natural hybrids are also given Latin names but the name is prefixed with ×. For example the pitcher plant, Sarracenia ×moorei is a hybrid between Sarracenia flava and Sarracenia leucophylla. Botanically, it is acceptable to just write Sarracenia moorei (without the ×), but the × should be written to emphasise the fact that the plant is a natural hybrid.
Inter-generic Hybrids
In very few cases, it is possible to cross two plants from different genrera. This is common in the case of orchids, particularly in Cattleya and Oncidium. The generic name can be created from the concatenation of the parent genera. For example Cattlianthe is a hybrid genus made up of Cattleya and Guarianthe.
More complex hybrids can involve three or more genera. For example Laeliocattleytonia is a hybrid genus made up of Laelia, Cattleya and Broughtonia. Sometimes, these complex genera are made up of the hybridiser's name with -ara suffix. For example, Maclellanara was named after Rod McLellan, and comprises of the genera, Brassia, Odontoglossum and Oncidium.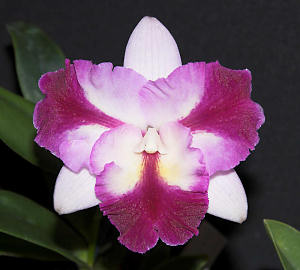 Cattleytonia Happy Face, an inter-generic hybrid comprising of
Cattleya and Broughtonia.
Registration
Certain plants such as orchids, fuchsias and hebes have registrars who keep hybrid registration records. Once registered, the hybrid name should then be used for any plants with the same two parents. This applies even if the cross was remade with the same parents.
The name of an unregistered hybrid is written with × between the two parent names. For example, prior to 1977, you would write the hybrid of Dendrobium speciosum and Dendrobium tetragonum as Dendrobium speciosum × tetragonum The name of the seed parent is written on the left side of the ×. Once registerd (in 1977), it becomes Dendrobium Hilda Poxon.
If the same two species were crossed again at a later date, the progeny would all also be known as Dendrobium Hilda Poxon. If one Dendrobium Hilda Poxon plant were crossed with another Dendrobium Hilda Poxon, the progeny would still be Dendrobium Hilda Poxon. However, if Dendrobium Hilda Poxon were crossed with Dendrobium speciosum, their progeny would be labeled as Dendrobium Hilda Poxon × speciosum. Once registered (in 1983), they will be called Dendrobium Essie Banks.
Cultivar Names
A cultivated variety is a individual plant that is selected from a batch of seedlings, or a breeding line. It can be either a species or hybrid. The name is written after the plant name and is given the rank of cultivar (abbreviated to cv.). The cultivar name is written in mixed case and should not be in Latin. Cultivar name are not normally registered.
A species example, Cosmos sulphureus cv. Bright Lights, is a line bred Cosmos sulphureus that has red and orange flowers in addition to the yellow that is typical of the genus. The cv. can be dropped and Bright Lights written in quotes, for example, Cosmos sulphureus "Bright Lights".
Three different colours of Cosmos sulphureus "Bright Lights"
Hybrid example, Dendrobium Kuniko "Toots" is a hybrid registered as Dendrobium myakii × victoriae-reginae. "Toots" is the cultivar name.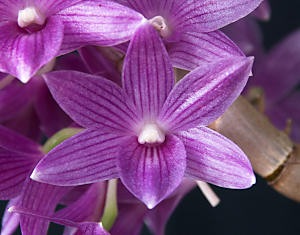 Dendrobium Kuniko "Toots"
Trade Names
Nurseries often give their cultivar trade names. These names are usually not registered and only serve the purpose of differentiating their plant from other nurseries. Sometimes the difference is not that great.
Etymology
Latin names can look complicated and difficult to pronounce. There is some truth in this. For example, California poppy (Eschscholzia californica) - it is far easier to grow the plant than to pronounce the name.
It becomes less complex once you know how the name came about, and often there are clues to the origin and culture of the plant. In the example above, Eschscholzia is named after Dr. Johann Friedrich Gustav von Eschscholtz, 19th century Estonian surgeon and botanist. californica means from California or has something to do with California.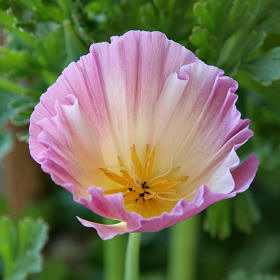 California poppy (Eschscholzia californica)
Names can refer to parts or growth habbit of the plant. For example - Living stone (Lithops pseudotruncatela), Lithops comes from Greek lithos meaning stone, and ops meaning face, referring to habbit of producing leaves that look like stones, and pseudotruncatella coms from Latin pseudo meaning false or similar to, and truncata meaning shorten, referring to the leaves that look short. Another example - Chillies (Capcisum annumm), Capsicum from Greek kapto meaning to bite, referring to their piquant flavour, and annumm from Latin annuum meaning annual.
Names may also be anagrams, for example, Sedirea is Aerides spelt backwards.
Common Botanical Names
Botanical names have been derrived mainly from Latin and Greek words or from the Latinised version of people's names and names of places. Here are a few examples:
coccinea, from Latin coccineus, meaning the colour scarlet
officinalis, from officina, the name of the storeroom in a monastery where herbs and medicines are stored
chinensis, meaning from China or related to China
banksii, named after Sir Joseph Banks, 19th century botanist who accompanied Cook on his first voyage and president of the Royal Society
Standard prefixes and suffixes are be added to words or names to change their meaning. Here are a few examples:
ex- from Latin, meaning out of, for example, excorticata, which refers to peeling bark (corticatus is Latin for covered with bark)
-cola from Latin incola which means dweller, for example, agathicola, which means lives with kauri trees (Agathis australis)
-phyllum - from Latin phylla which means leaves, for example, Spathiphyllum, which means

spathe

- leaf
The Latin names page lists all Latin names (and their meanings) used on this web site.