Pruning Roses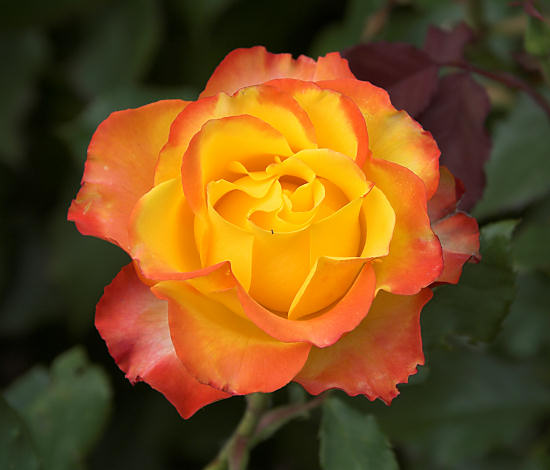 Tequilla Sunrise
It is important to prune roses in order to maintain healthy plants, encourage blooms and to keep vigourous varieties manageable. Pruning is not as complicated and difficult as some people think, and it is certainly not a black art. Pruning should be done every winter, when the plant is dormant and leafless. The only exception to this rule is if a branch appears diseased, it needs to be removed immediately. It is important that roses are prunned every year to keep the plants in good shape. Roses have big spines - use a pair of thick pruning gloves for self preservation.
New Plants
Let's start with a rose that is newly planted in the winter. For bush, climbing and rambling roses, shorten all branches by half. If it is a standard rose, the branches should be shorten by two thirds. See also: How to make a cut.
If the rose is planted at other times of the year, for example, if the plant is bought bagged or in a pot, leave the plant to grow through the season and wait for winter to prune.
Standards
Standard rose branches should be shortened by two thirds or more when prunning. This depends a bit on the vigour of the plant but as a guideline, shorten the branches to around 10-30 cm. Be careful that they are not cut so short that there are no buds left. Remove all dead, old and crossing branches.
Standard roses are grafted onto vigourous root stocks. Suckers grow from the stock and will produce flowers that are completely different. These should be removed as they are formed. Don't cut these off at ground level, but instead dig down to where they sprout and cut off as close as possible to the main trunk. This will discourage the plant from growing more suckers.
To prune a standard:
Remove all dead, diseased and weak growths.
Cut off all laterals growing downwards.
Cut off all suckers.
Remove branches in the middle of the plant to open it up and improve air circulation and to allow in more sunlight.
Shorten all other branches back to around 1/3, to a upward facing bud.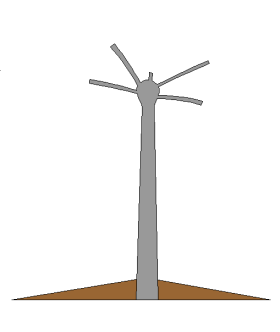 After pruning.
Bush Roses
Bush roses should be trained to have an open vase shape. Allowing light into the middle of the bush, and improving air circulation. Good light and air circulation will improve the health of a bush, keeping fungal diseases at bay. An open bush is also easier to spray.
After each growing season, shorten healthy plump branches by half (1). Remove all old and diseased branches, and branches that are too small (2). Remove branches in the middle of the bush to open it up. Remove crossing branches (4), or branches that grow too close to each other.
As with standards, most bush roses are grafted. Remove all suckers that grow below the graft union (5).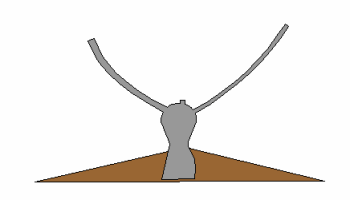 After pruning.
Climbers
A climbing rose is pruned to a frame of main vines tied to a support structure, such as a fence or a strong trellis. Laterals growing from the frame will then produce flowers. When prunning, shorten these laterals back to the frame.
The main vines will need to be replaced every 3-4 years. Pick a strong lateral growing from low down in the vine and train this up the support parallel to the vine that is to be replaced. At prunning time, cut the lateral so that it is the same length as the vine to be replaced. Then remove the old vine.
Ramblers
Rambling roses are similar to climbers but their sprawling growth is less upright. Most flower on one year old wood, so when pruning, aim to renew the old wood. The best time to prune is right after flowering - cut off the older flowered wood right down to the ground. When younger growths appear, tie them to the support and these will flower the following year. It may be necessary to stop the tips of the new growth to prevent them from overcrowding. Shorten all laterals by a third.
How to make a cut
Cut branches just above an outward facing bud. This bud will grow in spring and flower, so it is important to make sure it grows in the right direction. For climbing roses, this should be an upward facing bud.
Use a shart pair of secateurs to make a clean angled cut that slopes away from the bud. The slope allows rain water to drain away from the bud. Blunt secateurs will crush the branch, damaging it. Cuts with rough edges can be cleaned up with a sharp knife. Rough edges take more to heal over and encourges diseases.
Do not leave too much wood between the cut and the bud, as this will not heal and allow diseases to infect the plant. Similarly, do not cut too close to the bud or it will dry out.
The above picture shows the right and wrong ways to make a cut.
The cut is too far from the bud. The wood will die back and not heal properly.
The cut is too close to the bud. There is a good chance the bud will dry out.
The cut slopes towards the bud. Make cuts sloping away from the bud so that rain water flows away from the bud.
The cut is not clean. Rough edges take longer to heal and can harbour diseases.
The right way to cut. Clean cut sloping gently away from the bud.
Spring pruning
In the spring, once growth has commenced, inspect the plant. Sometimes the outward facing bud does not grow, and in this case, it will be necessary to shorten the branch to another outward facing bud lower down.
Should a late frost damage the early growths, it will also be necessary to prune back to another lower bud.
Dead Heading
Flowers that have faded should be removed. If they are allowed to go to seed, the plant will stop flowering. Cut the flowers to just above a healthy, plump bud. In most cases, this bud will grow and produce more flowers.
Stop dead heading in late summer and allow the rose hips to form. This stops all new growths and hardens the plant to survive the winter. Certain roses have hips that turn to an attractive colour in the winter.
Virus
Hygene is utmost when it comes to pruning. This is because pruning will easily spread virus from an infected plant to the whole garden. Virus spreads through plant sap, and it is important to clean and disinfect secateurs before you prune.