Preparing for Winter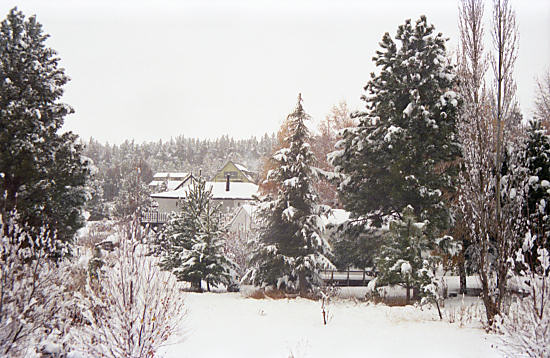 Tekapo after snow storm, May 1992
The days are getting shorter and in most places, the days are noticeable cooler. Autumn is well upon us. Now is the time to start preparing the garden for winter, before the rainy weather arrives.
Tidy up
There is definitely plenty to do at this time of the year. Summer annuals that have finished flowering should be removed. If you want the annuals to self seed, cut off the dead heads and scatter the seeds. Similarly, perennials that have finished should be dead headed, but leave the tops on if they are still green.
Fruit trees can be tidied. Remove all fallen fruit. They usually harbour fungal diseases that will sprout spores to re-infect the trees in the spring. Trees have started to drop leaves can be sprayed with a fungicide (for example, copper), winter strength. Peach and nectarine trees also benefit from a spray of lime sulphur to combat leaf curl.
Harvest
April is the time to harvest a number of vegetables. Chillies should be ripening by the bucket. Excess chillies can be frozen, dried, pickled, and made into chilly sauce. See also: Culture and Germination - Chillies and Peppers.
Most cucurbita fruits should be ready for harvesting. This include squashes, pumpkins, melons and gourds. Most squash and pumpkin change skin colour when they are ripe. Those that do not should be picked when the vine starts to die. Unripe, but fully grown ones, can be still be harvested, stored in a cool dry and airy place, for example, the garage, to complete the ripening process. In fact, ripe fruit also benefits from this treatment as it improves the flavour. See also: Culture and Germination - Melons.
Bottle and ornamental gourds should be picked when the vine dies. Hang bottle gourd in a cool airy dark place and allow to dry slowly. When completely dry you can hear the seeds rattle inside the gourd when you shake it. Ornamental gourds should have the layer of wax on their skins removed by vigorous rubbing. This allows the gourds to cure, in as little as a couple of weeks. Then they can be lacquered. Ornamental gourds only last a few months.
Working the soil
April is also the time to work and improve the soil in preparation for winter planting. Once the rains arrive, clay soils will be unworkable, having a texture of chewing gum. For example, if you are planning to plant a deciduous fruit tree in the winter, then work the soil now, and when winter arrives, the tree planting exercise will be a lot easier.
In the veggie garden, plant a winter crop, such as brassicas (cabbage, cauli, broccoli, etc.), carrots and parsnips. Prepare the soil for planting garlic - next month, and for a green crop, should you choose to grow one.
A green crop (eg. blue lupin, mustard) works by suppressing weeds, and soaking up nutrients from the soil, so that they are not leached out by winter rains. In September, they can be chopped up and forked into the soil. The plants will rot, releasing the nutrients back into the soil. Allow 3-4 weeks for the green to rot down before you plant.