The Self Watering Garden
A garden irrigation system can save the gardener from the manual labour of watering. These systems can be as simple as a sprinkler attached to one end of a hose to sophisticated systems that water only when the garden is dry and at particular times of the day. Regardless of the system, a properly designed and installed irrigation system will ensure your plants get the required amount of moisture.
Even a small or courtyard garden can benefit from an automated system. This is particularly useful when you go on holidays in the summer at a time when your garden needs irrigation the most.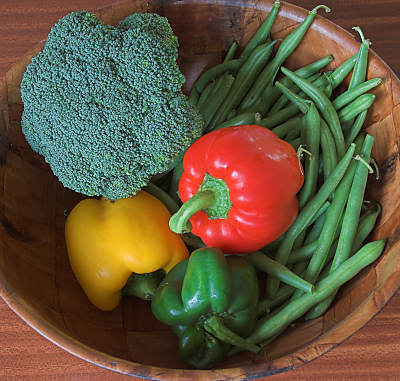 Delivering the correct amount of water to plant roots is key to a good harvest.
Garden irigation equipment comes in a number of shapes and sizes, each to suit a particular purpose and budget. The 13mm system is inexpensive and can be easily installed in a day. The 19mm system carries more water and is able to supply larger sprinklers that water large areas. The 5mm system is mainly used in low pressure systems for drippers. Various timers, computers and water controllers can be used to automate the irrigation system.
Sprinklers and Drippers
Different types of sprinklers and drippers
are available to do different irrigation jobs.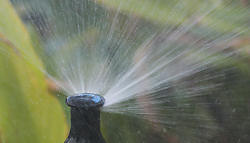 Sprinkler.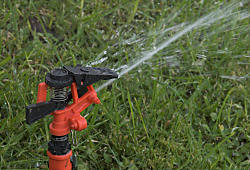 Impulse sprinkler.



Pop-up sprinkler, right photo shows
sprinkler in the poped-up state.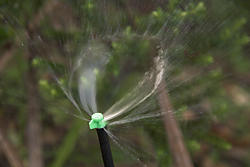 Micro sprinkler on top of rigid riser.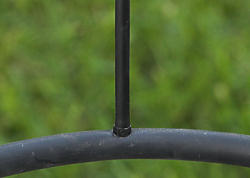 Rigid riser connected to 13mm pipe.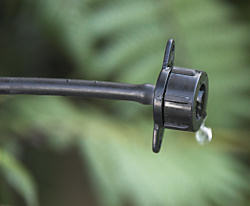 Dripper connected to 5mm pipe.

What's Available
Sprinklers
Big sprinklers can water large areas of the garden. They pump out large volumes of water and perform best if connected using 19mm pipes. A typical town water supply can only supply one or at most two of these sprinklers at any one time. Big sprinklers may not be suitable if you use tank water supplied through a pump. Water is sprayed high up and coverage is at the mercy of the wind.
Impluse sprinklers shoot water out in a single jet on a rotating head. They tend to have the biggest coverage, and one or two would typically be sufficient for the quarter acre section. However, it is hard to control the delivery of water when using these large sprinklers.
Popup sprinklers are installed below ground and pop up when water pressure is applied. They are suitable for use as lawn sprinklers. Full, half and quarter circle heads allow some control over the delivery of water.
Micro Sprinklers
Micro sprinklers are smaller sprinklers that typically cover 1-2 square metres. They are usually connected to rigid risers from 13mm pipes buried just under the surface of the soil or mulch. Like their larger cousins, micro sprinklers heads are available in full, half and quarter circles, as well as with strips. It is also possible to get 3/4 circle heads for specific applications. Micro sprinklers allow better control over water delivery, and careful placement will ensure full coverage.
Micro sprinklers are quite sensitive to water pressure. When run at high pressure, they tend to produce a fine mist which is easily lost even in the gentlest of breezes. When run at insufficient pressure, they shutdown and reduce to a trickle. It is best to run them at a pressure where water sprays out in larger droplets.
Drippers
Drippers work on low pressure systems and are typically connected using 5mm pipes. A pressure reducer is placed between the water supply and the drippers. Drippers work by providing water to the root zone of plants, allowing the soil to slowly soak up the water. The advantage is drippers waste very little water through evaporation and wind. They are very effective on clay soils but not as good on sandy soils.
Some drippers come with a flow control valve that can be used to limit the amount of water delivered. This is useful if the same watering line needs to cater for plants with different requirements for water. Multiple drippers can be used for large plants, such as shrubs and trees, that require even more water.
Soak Hose
A soak hose has rows of tiny holes that allow water to leak out and soak into the soil. It is the most basic of garden irrigation devides, yet is one of the most useful, especially in the vegie garden. It is easily moved and can be bent and twisted to cater for odd garden shapes. Soak hose should never be run at high pressures. This will cause water to jet out of the tiny holes and be lost through evaporation and the wind.
After being used for some time, the holes in a soak hose an be blocked by impurities in the water or through the collapse of its soft plastic walls. A small nail can be used to open up these holes. Detritus and soil can also collect on top of the hose, blocking the holes.
Planning
The key to a good irrigation system is planning. On a grid paper, draw an outline of your land approximately to scale. Mark off areas that do not need irrigation, such as your house, decks, driveway, paths, garden shed, etc. Then divide the garden area into different logical sections, for example, trees and shrubs, lawn, border and vegetable garden. These will likely require different irrigation strategies.
The example below shows these steps - click on the "Next" link to go to the next step.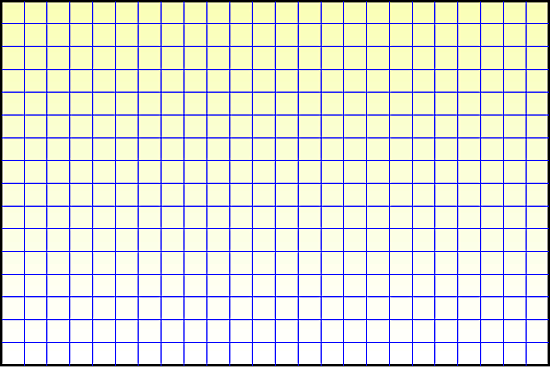 Start with a blank grid.


Next Quick links: 1 2 3 4

The next step is to work out what sort of sprinklers and drippers that you will need. To do this, you will need to know how much area each sprinkler covers. This information can be gleaned from the manufacturer's web sites or take a trip down to your local garden centre. Using the same scale as your garden drawing, cut out paper to represent the coverage area of sprinklers; cut a circle for 360° sprinklers, half a circle for the 180° ones and a quarter circle for the 90° ones. Use these paper cut outs to work out where you will place the sprinklers, and how many sprinklers to use. Make sure there are no gaps in the coverage, it is alright for two or more sprinklers to overlap.

The example shows these steps using an irregular shaped border - click on the "Next" link to go to the next step.


Here is an example of an irregular border, garden path to the top.

Cut out three 180° sprinklers and run this along the path.


Next Quick links: 1 2 3 4
Flow Rate
When using sprinklers, it is important to work out their flow rate versus the available flow of your water supply. The sprinkler flow rate is the rate of water that is emmitted by the sprinkler, and is measured either as litres per hour or gallons per hour. This information can be obtained either from the manufacturer's web site or your local garden centre.
Then work out the available flow rate of your water supply. A simple way is to turn on the garden tap, let it run for a minute, then time how long it takes to fill a 10 litre bucket. Your water supply flow rate is 10 litres ÷ number of seconds it takes to fill × 3600. Multiply this by 80% to take into account resistance of irrigation pipes, timers and taps. You should do this test at the time when your water pressure is lowest, usually in the morning when your neighbours are all using water. Use the calculator on the right to work out your maximum flow rate. Work in gallons if you are more used to it.
Segmenting
The next stage of planning is to work out how many irrigation segments you will need. Sprinklers with different flow rates and drippers should be operated on separate pipes. Drippers require low pressure, whereas sprinklers require high pressure. Furthermore, because of their low flow rate, drippers are only effective if they are left on for long periods, far longer than one wouuld normally leave sprinklers on for.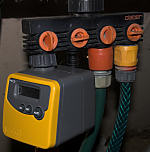 A 4-way distributor and
water computer.
Sum up the flow rate for all sprinklers connnected to any one pipe. If this is greater than your available flow rate, you will need to break into two or more segments. Each pipe will have to be operated at a different time. A multiple tap distributor can be used to control water to different irrigation pipes.
It is not necessary to work out the flow rate if you are only using drippers as these operate at very low flow rate.
Steep Sections
Steep sections or sections with uneven steepness provide additional challanges. If you run a pipe up a steep section, the bottom part will have a higher water pressure than the top. Running the same pipe horizontally on a flat section, the pressure is greatest closer to the water mains and lowest at the other end, as sprinklers along the pipe will each reduce the pressure a little.
On a steep slope, it is better to run pipes horizontally, or if this is not possible, connect the water supply to the irrigation pipe at the highest point. This will ensure sprinklers on top of the hill will still be able to operate at a sufficient water pressure. It may be necessary to reduce the number of sprinklers connected to the pipe (and have more pipe segments) in order to ensure sufficient working water pressure.
Controllers
Timers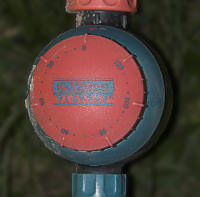 Mechanical timer.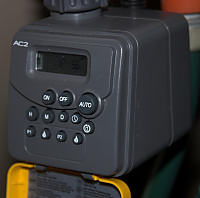 Battery powered water computer.
Once the irrigation system is connected, turning on the water will irrigate the garden. If you forget to turn off the water, you will not only waste water, you might also flood your garden! Having a simple water time solves this problem.
There are two types of water timers. The first works solely on time, turning off the water after a preset amount of time. The mechanically operated ones are inexpensive, although you can purchase more expensive electronic ones. The other type turns off the water after on the amount of watered delivered. This is useful if you experience fluctuations in water pressure of if you use bore or tank water via a pump.
Water Computers
Water timers are still manually operated. You will need to start it, and set the stop time everytime you want to irrigate. A water computer automates this process, allowing you to program when to start the water and how long to water for. Most will also provide facilities to water every alternate day, every 3 days or once a week. Some models also allow multiple programmes to be entered, allowing you to water several times a day. These can be useful for watering pot plants which may require two or more waterings a day in the summer.
Sophisticated Controllers
More sophisticated controllers allow you more control. For example, some have a water probe that checks the moisture level in the soil and will only turn on the water when the soil is dry. There are those that can be connected to computers allowing for more sophisticated programming. These can get quite expensive and are usually out of the range of most home gardeners.
Putting it all Together
Installation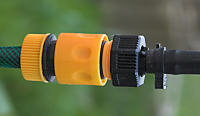 13mm pipe connected to standard hose
using click-on fitting.
Garden irrigation system is very easy to install, and you only need simple tools such as a pair of seccateurs and perhaps screws and a screwdriver. The 13mm and 19mm pipes can be connected to water mains using standard click-on fittings. These pipes are usually placed on the soil and burried under the mulch. If the soil has been mulched, clear away the mulch where the pipes are going to be laid. Pipes usually come coilled, and placing them under the sun for an hour or so will soften the plastic, making it easier to uncoil and lay.
Once the pipes are laid down, pin them down using either special ties or weed mat staples. Pipes should always be laid on top of any weed mats. A pipe can be bent to go around an obstacle, or a 90° elbow can be used if the pipe needs to go through a tight bend. T- and cross joins can be used to split a pipe. Use ratched clamps to make sure the pipe does not slip out of the joins. Pipes can also be secured on to fences and shed walls using special clamps. Use galvanised or stainless steel screws to secure the clamps.
Once the pipe has been laid, tie off the end of the pipe using an end stopper. Connect the pipe to the water supply, turn on the water and check for and fix any leaks. Do this before connecting any of the micro sprinklers.
When installing micro sprinklers, a special punch is used to make a hole in the 13mm pipe and then a rigid riser is inserted. Make sure the top of the riser is above, and is located away from, any obstales, such as taller shrubs and perennials. If the pipe is mounted high above ground, it is not necessary to use the rigid riser - the micro sprinkler can be inserted directly into the pipe.
The 19mm system is similar except that there are special connectors and elbows for connecting to risers and sprinklers. Do not punch holes in 19mm pipes. For lawn sprinklers, dig a shallow trench to house the pipe, to a depth that is equal to the pop-up sprinkler's depth. If possible, dig the lawn up in blocks, lay the pipe and replace the blocks. This creates minimal disruption to the lawn, allowing it to heal quickly. If the lawn cannot be dug up in blocks, it is better then to lay the pipe during spring or autumn to allow lawn seed to be sown.
Drippers will need a pressure reducer. 13mm pipe should be used to distribute water. Drippers should be connected to 5mm pipes that are themselves connected to 13mm pipes using the same punch and insert method as for risers. Each 5mm pipe should only feed one or a few drippers.
Fine Tuning
Once the system is set up, unstop the ends of the pipes and allow water to run through for a few minutes. This will flush out any contamination (eg. soil) from the pipe that may end up clogging the sprinklers. Restop the ends of the pipes.
Turn the system on and check for water coverage. It may be necessary to move or replace sprinkler heads or realign them to get 100% coverage or to avoid excessively wetting paths and the driveway, wasting water. Mulch can then be placed on top of the pipes and the lawn trench filled in.
Run the drippers for some time to guage their effectiveness. They need to evenly wet the soil around plants that they irrigate. Use additional drippers to cover dry spots.
Maintenance
In winter, when the irrigation system is not being used, disconnect all timers, water computers and controllers and remove batteries. Water can freeze inside these units and can cause seals and joins to burst. Extra moisture available during the more humid winter months can work their way into the electronics, coroding contacts and wreaking havoc. Storing these units in a cool dry place in the winter will extend their life time.
Irrigation pipes should also be disconnected from taps. Once again, water freezing may cause these pipes to burst. The open end in a disconnected pipe allows for some expansion when water freezes.
In the spring, before the irrigation system is used for the first time, disconnect the end stoppers and allow water to drain through the pipes. This will flush out all sediments and insects, snail eggs, etc. Otherwise, these will end up clogging sprinklers and drippers. Micro sprinkler heads may need to be replaced, especially if they have been damaged by the frost. It is also a good idea at this time of the year to check for leaks in the irrigation pipe and all the joins.
Replace the batteries in your water computers with a fresh set that will ensure reliable opertion for the rest of the growing season. In most cases, you will need to reprogram the water computers.
It may be necessary to adjust sprinklers and their position to take into account shrubs and trees that have grown since the irrigation system was put in. Risers can be stacked to elevate the micro sprinklers above obstacles.