Featured plants of the month
February

Dragon Fruit

This species of night blooming cactus is grown mainly for its showy perfumed flowers and its large edible fruits. [More...]
January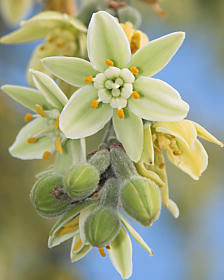 Furcraea longaeva

This relative of agaves produces a huge spike of cream / light green flowers. It dies after flowering, but the flower spike produces numerous plantlets that can be grown on as new plants. [More...]

Your gardening information network.
This is a gardening lifestyle web site. Here you will find a selection of plant and flower pictures, culture and germination notes to help you grow your plants, articles and monthly newsletter for you to read and seeds for your garden. You can also read my rants in blogs.

Site Map
Newsletter:

Travel
---


Te Rewa Rewa Bridge across the Waiwhakaiho River, New Plymouth, January 2012.
[Read the newsletter]
No January Newsletter
---
There will be no newsletter in January. Normal newsletters will resume in February.
[More announcements...]
Malaysia Trip #1
---
I visited Malaysia in November 2011, after having been to the World Orchid Conference in Singapore. There were many interesting places, rich in history and culture, diverse in wildlife. [
Read Blog
]

More blogs
Newly Added or Updated Plants
Plant pictures
| | | |
| --- | --- | --- |
| | See also: | Botanical index - picture thumbnails organised by plant families. |
Bulbs, Corms and Tubers

Plants that grow from bulbs, corms and tubers. [More...]
Alstroemeria psittacina, Amorphophallus konjac, Arisaema, Autumn Snowflakes, Blackberry lily, ...
Composite Flowers

All plants in the daisy family have composite flowers; where one or more rays of florets are arranged in a circle so as to look like one flower. [More...]
Arctotis, Calendula, Chrysanthemums, Chrysocoma, Cineraria, ...

---

Cactus and succulents

Cactus and succulents. [More...]
Agave, Ceropegia woodii, Disocactus phyllanthoides, Dragon Fruit, Furcraea longaeva, ...

---

Species and Hybrid Fuchsias

Species and hybrid fuchsias. [More...]
Fuchsia boliviana, Fuchsia excorticata, Fuchsia fulgens, Fuchsia hybrids, Fuchsia magellanica, ...

---

Food plants

Plants for the veggie/herb garden or orchard. [More...]
Alpine Strawberry, Asparagus Pea, Blackberry, Camellia sinensis, Cape Gooseberry, ...

---

New Zealand Natives

New Zealand native plants. [More...]
Cabbage Tree, Dracophyllum, Fuchsia excorticata, Fuchsia procumbens, Hibiscus diversifolius, ...

---

Trees and shrubs

Trees and shrubs. [More...]
Brunfelsia, Cabbage Tree, Camellia, Cape Fuchsia, Cape Gooseberry, ...

---

Climbers

Climbers. [More...]
Clematis, Hoya, Kiwifruit, Monstera, Passionfruit, ...

---

Other Ornamentals

Flowering plants. [More...]
Aquilegia, Balloon flower, Bat Flower, Begonia, Bird of Paradise, ...

---

Other Interesting Pictures

Unusual and interesting pictures. [More...]
Conjoined Flowers, Floral Art, Germination Inside Tomato, Sensitive Plant, Spontaneous Germination, ...

Featured Plants

This month: Dragon Fruit
This species of night blooming cactus... [More...]

Last month: Furcraea longaeva
This relative of agaves produces a huge... [More...]

Random Plant

Jerusalem Artichoke
Jerusalem artichoke is a perennial... [More...]