epiphyte
A plant that grows on another,
but does not obtain nutrients from its host.
terrestrial
A plant that grows on the ground, like most plants do.Grows on or in the ground.
inflorescence
A flowering shoot with more than one flower.
Inflorescences may be branched or unbranched.
New Zealand Native Orchids
1 August 2011
---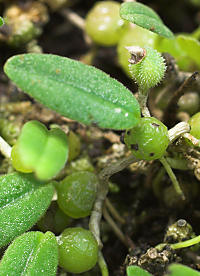 Bulbophyllum pygmaeum showing leaf,
pseudobulb and seed pod.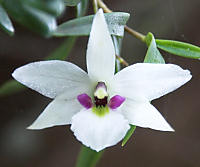 Winika
(Dendrobium cunninghamii)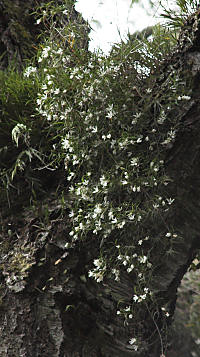 A winika growing on the fork of a tree.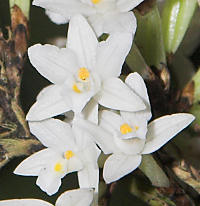 Ruapeka (Earina autumnalis).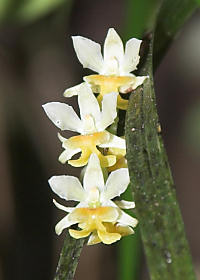 Peka-a-waka (Earina mucronata)
Most people associate orchids with flamboyant exotic blooms such as Cattleya, Cymbidium and Phalaenopsis that come from tropical jungles. What is less known is New Zealand has around 150 species of native orchids. Most exotic orchids are epiphytes, but unlike them, only nine native orchid species are epiphytic. They are:
Bulbophyllum pygmaeum
Bulbophyllum tuberculatum
Dendrobium cunninghamii (Winika)
Drymoanthus adversus
Drymoanthus flavus
Earina aestivalis
Earina autumnalis (Ruapeka)
Taeniophyllum norfolkianum
Bulbophyllum pygmaeum, as its name suggests, is really tiny. Its pseudobulbs are only 3-4mm across, leaves and flowers about the same dimensions. Its cousin, Bulbophyllum tuberculatum is only slightly bigger. Both are found growing quite high up on trees, usually with lichen. The best way to spot them is to look for fallen branches and trees. They are also sometimes found on bark shed by kauri trees.
Winika (Dendrobium cunninghamii) on the other hand, grows to over a metre across. Of the epiphytic orchids, Winika produces the largest flowers, around 2.5cm across. A large plant with flowers produced en-masse is quite a spectacular sight. It flowers in January.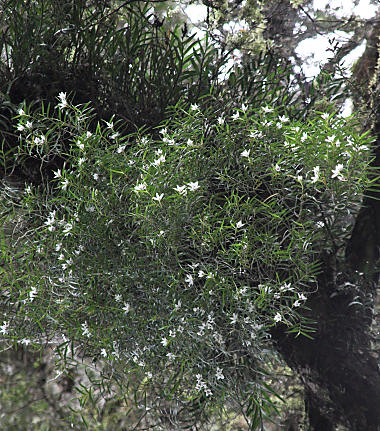 A large winika, over a metre across. The grass like plant growing above it is Ruapeka (Earina autumnalis).
Both Drymoanthus adversus and Drymoanthus flavus are small plants, around 15cm across. They have prominent white roots and a tuft of leaves. The flowers are tiny, only 4mm across. Drymoanthus adversus is quite common but is difficult to spot, as it tends to grow quite high up in the canopy.
The lower growing plants have unfortunately been over collected. Most of these don't end up surviving as it is difficult to provide the high humidity conditions of the bush. It is better to leave them where they are and let others also enjoy them.
Drymoanthus flavus is rare but can be found in the Catlins. It only grows in the lower half of the North Island and in the South Island.
Ruapeka (Earina autumnalis) and Peka-a-waka (Earina mucronata) are very common. Both are scented and often this is the best way to find them. They have grass-like leaves and look like clumps of grass growing on tree trunks. Ruapeka flowers in the autumn, around Easter. Peka-a-waka flowers in the spring and summer. Earina aestivalis looks a lot like Peka-a-waka except that the leaves are more robust and the growth is more sparse. It grows near the coast.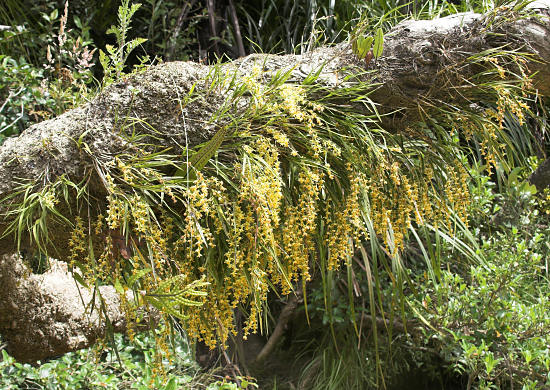 A large Peka-a-waka growing on a fallen tree. This specimen has orange flowers.
Taeniophyllum norfolkianum was thought to only exists in Norfolk Island. In 2009, it was discovered in one location in Northlands, near Waipu, growing on the trunks of gorse. It is a leafless orchid, the green roots having taken over the process of photosynthesis.