epiphyte
A plant that grows on another,
but does not obtain nutrients from its host.
Miniatures and Their Giant Counterparts
16 July 2011
---
In the gardening world, there are plants that exhibit extremes. This is a blog about the extremes of sizes. Lets take a trip around the world to look at a selection of miniatures and their giant counterparts.

We first travel to South Africa and meet one of the most popular bedding plants, the bedding lobelia. It has masses of small flowers that often cover the whole plant. Varieties with trailing habbit are suitable for hanging baskets. It is difficult to show size in photographs so rulers are placed next to photos to indicate the approximate size.
(Ruler measurements are appriximate only)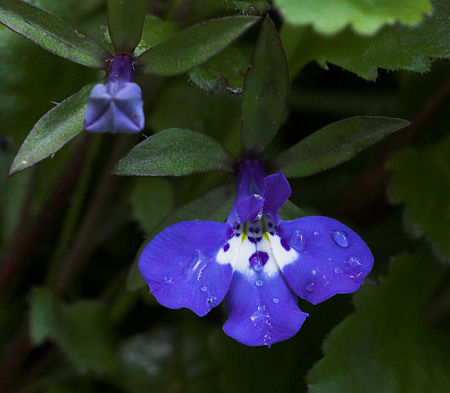 Lobelia erinus
Move north to East Africa, we meet bedding lobelia's giant cousins, Lobelia telekii of Mount Kenya and Lobelia deckenii that grows in wet mountainous areas of East Africa will grow to several metres tall.