Judging Orchids
28 October 2011
---
People who visit an orchid show might ask why a plant is given a first and another second. Questions often surround how the plants are placed. This blog very briefly explains the process of judging orchids.
Broadly, there are two types of judging, class (or ribbon) judging and award judging.
Class (Ribbon) Judging
Class judging puts plants in a show against each other. Firstly, the show has a schedule that divides plants into several classes. The classes will often separate plants by genus (or groups of genera), flower size, shape and colour, and whether the plant is grown by a novice.
Different shows can have different divisions of classes. Classes tend to be set according to the time of the year the show is held. For example, spring shows will have more Cymbidium classes than shows held in the autumn. The aim is divide entries out so that plants fairly compete against each other. Large shows tend to have more class divisions than smaller shows.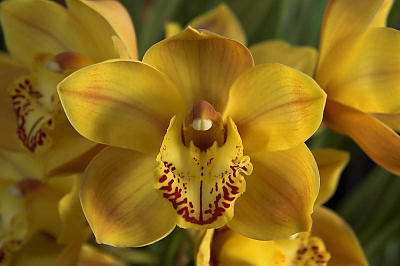 Cymbidium Leroys Mountain 'Phoenix'
It normally takes several years of study to become an acredited orchid judge; and the study continues even after acreditation. Judges are often split into several panels, with each panel judging one group of classes. For each class, the first, second and third is picked by popular vote.
Among the factors that influence a judge's decision are colour and form (shape) of the flower, size of flower, floriferousness, habbit and arrangement, substance and texture. Colour should be clean, strong and well defined. The overall form should be symmetrical, and where appropriate, the petals should be wide and fill in the gaps in the flower.
Shows may also award one or more trophies. These are either the winners of a class or the overall winner of several classes.
Award Judging
Where there are outstanding plants, the judging panel may give out one or more awards. Quality awards recognise outstanding flowers that are higher quality than the norm nationally or internationally, and are improved over their parents. Examples of quality awards are:
HCC (Highly Commended Certificate),
AM (Award of Merit), and
FCC (First Class Certificate)
or
B (Bronze)
S (Silver)
G (Gold)

Cattleya Fire Magic
'Solar Flare' HCC/NZOS

Masdevallia Eloise Harper
'Paradise' AM/NZOS

Disa uniflora 'Golden Lode' HCC/OCNZ
Judging panels can also give out one of these awards.
AD (Award of Distinction) is given out to flowers that do not normally for quality awards but something very distinctive, eg highly unusual colour.
CBM (Certificate of Botanical Merrit) is given out for a species that is rare or unusual in cultivation. Only one CBM is given to a species and it is used as a benchmark against which all future judging of the species is compared to.
PBA (Plant Breeder's Award) - This award is given out to the exhibitor of a group of 6 siblings of a cross (called grex) exhibited at the same time, which are in award quality (or have been previously awarded) or are near award quality. This is given out to both the plant breeder and grower (if different).
CCC (Culture Certificate) - This award is given to a plant showing outstanding culture qualities. This would include plant of exceptional size, clean foliage and high floriferousness.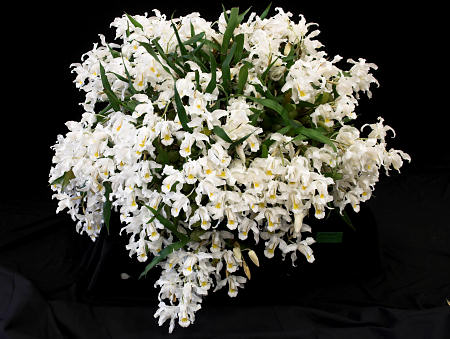 Coelogyne cristata CCC/OCNZ
Plants with quality, AD or CBM awards can have the name of the award tagged at the end of the name, for example, Dendrobium Kuniko 'Toots' HCC/OCNZ, means that the plant had had an HCC award from the Orchid Council panel of judges.
The FCC quality award is the hardest to achieve, and the last FCC awarded in New Zealand was in 2005.