Aroids
Aroids are plants that belong to the Araceae (or Arum) family. They are characterised by their unique flower structure. The small insignificant flowers are tightly packed around a spike, called a spadix. This is then enclosed within a large bract (the spathe) that replaces the function of petals in a flower.
Variety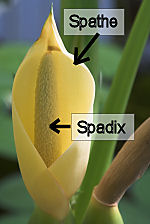 Typical aroid flower
There is a great variety of species that make up the family. There are species that grow from underground tubers and rhizomes, for example, taro and calla. There are climbers, for example Monstera and Philodendron, and there are also species that grow from a short stem, for example Caladium.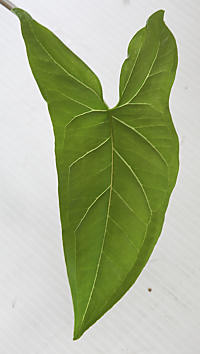 Typical aroid leaf, showing net veins
Spathe colour varies greatly and recent breeding in calla lilies has resulted in a great variety of colours. Flower size also varies, and the largest flower structure in plant kingdom belongs to an aroid, Amorphophallus titanum. This giant from the jungles of Sumatra can grow flowers 2m tall!
A number of aroids are grown as ornamentals. Some are grown for their flowers. Others are grown primarily for their leaves. These could have bold leaves, colouful leaves or leaves with interesting contrasts, patterns and textures. Interestingly, aroids are the only monocot plant that contains plants without parallel leaf veins. Instead, a number of genera have leaf veins that are interconnected forming a net, much more like a dicot.
House Plants
The peace lily (Spathiphyllum wallisii) is a polular houseplant. It tolerates a wide range of conditions and grows very well in most homes. It is particularly tolerant of shady conditions, but the best flowering is to be had when the plant is growing in bright indirect light.
Another popular house plant is the flamingo flower (Anthurium sp.). While not as shade tolerant as the peace lily, anthurriums are very drought tolerant. Plants can withstand extended periods without water, but growth is best in warm wet conditions. A great range of modern hybrids are available in a variety of colours, red, pink, white and green, and in a different spathe sizes.
Monstera and Philodendron are also grown as house plants, but these tend to grow too big for the typical household and are more suitable for large conservatories. In warmer sub-tropical regions, they can be grown outdoors in sheltered positions. Monstera is an unusual plant. When small, it has heart shapped leaves and look like an anthurrium. As the plant grows, holes begin to appear in the larger leaves, and in large plants, the leaves look like giant Swiss cheese, giving it the name, "Swiss cheese plant". Like Anthurium, Monstera and Philodendron are pretty drought tolerant.
Hardy Outdoor Plants
Aroids are not limited to just houseplants. A number of them are pretty hardy and can over winter as underground tubers. Commonly grown are species of Zantedeschia (Arum and calla lilies). Arum lily (Z. aethiopica) is a medium sized herbaceous perennial that grows a large white flower. Green forms are also known. This plant is tolerant of wet feet and grows best in fertile wet soils. It can be quite invasive though, through birds scattering its numerous seeds.
A relation, the calla lily is more tame. Calla is available in almost all colours of the rainbow, and there are even very dark coloured (almost black) varieties. Modern callas are bred from a number of species, including, Z. elliottiana and Z. rehmannii.
Arisaema species are normally grown for their curiously shapped spathes. Their unusual shapes have given rise to common names such as cobra lily and Jack in the pulpit (A. triphyllum). Arisaema candidissimum has a white spathe with a green throat.
Edible Plants
The aroid family is unusual in that it contains a number of species with acrid poison, while a few are edible. All contain calcium oxalate crystals and even the edible ones will need to be properly prepared before consumption. Calcium oxalate can cause painful swelling and in extreme cases, the swelling can constrict airways, a dangerous medical condition.
The most important food aroid is undoubtedly the taro (Colocasia esculenta). The tuber and leaves are the edible parts. Taro is the staple food for a number of polynesian communities. Taro grows in boggy ground, requiring ample moisture. In parts of the world, taro is grown to suck excess water out of the ground.
Weedy Aroids
In the other hand, there are aroids that have become weeds in New Zealand. A couple of examples are Alocasia brisbanensis and Arum italicum. Zantedeschia aethiopica can also become weedy in the garden.