Hayfever and Asthma
By Irene Lok

Spring is a great time for gardening but this season brings with it hayfever, asthma and other allergic reactions that some people dread. Hayfever is an allergic response to pollen or mold that causes itchy, red eyes, watery discharge from the nose, sneezing, fatigue and nervous irritability. A RAST test gives a definitive diagnosis as to whether a person is allergic to pollen or any other allergens.
Common Allergens
Pollen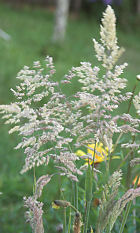 Deciduous trees (September / October) and grasses (November to February) contribute to most of the pollen in the air. Connifer trees also release pollen but the pollen is heavy and do not travel far. Flowers that are pollinated by animals do not cause allergies. Their pollen is designed to stick to pollinators and not float in the air.
Mould
and other fungi live in damp, poorly aerated places. When mature, they release spores into the air.
House dust mites
are microscopic bugs that live in carpet, furnishings and bedding. Their droppings cause allergies.
Foods
can trigger allergies in certain people. The most serious of these is peanut. For the very sensitive, even a tiny amount can kill.
Pet
dander, fur and saliva also trigger allergic reactions.
The first step to reduce the incidence of hayfever and asthma is to reduce the allergic threshold by avoiding airborne and food allergens. Pollen counts are highest between 5am and 10am, so activities such as gardening and other outdoor activities should be done at a different time.
A few natural ways to treat hayfever and asthma:
Food allergens


Eliminate food allergens and food additives from the diet.

Garlic and Onions


Consume large quantities of garlic and onions.

Diet
Get onto a vegan diet with the exception of cold water fish (to obtain the Omega 3 essential fatty acids) for at least 4 months to see if this will help.
Supplements
Support the body's anti-allergy mechanism with vitamin C, quercetin, selenium, vitamins B6 and B12. Quercetin is a bioflavonoid that stabilizes the membranes of the cells that release histamine. Vitamin C is a potent immunostimulant and anti-inflammatory.
See also: Natural allergy, hayfever & sinusitis products.
Magnesium


Use a magnesium supplement to relax muscles of the respiratory tract.

Remedies


Homeopathic remedies, like NaturoPharm's Allermed and Hayfever tissue salts can help with the relief of hayfever symptoms without the side effects.
Important: In severe cases of asthma, conventional medications and drug treatment of the acute attack should be used together with natural measures to reduce the allergic threshold.
---
Irene runs Health e-Sense at Botany Junction in Flat Bush, Auckland. Products mentioned here are available in store or online at http://healthysense.co.nz.