Latest Blog - Trip to Malaysia, Part 1
19 January 2012
---
Trees that line the car park were packed with epiphytes, mainly orchids.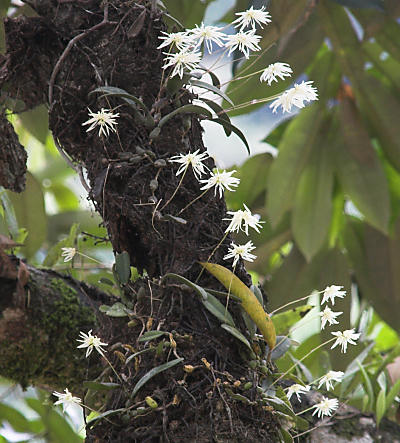 Bulbophyllum purpureum orchid in flower.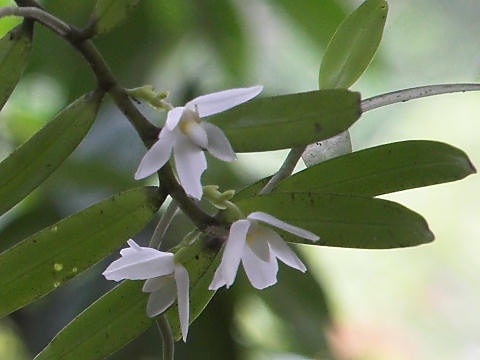 Thrixspermum calceolus orchid in flower.
Thrixspermum calceolus has ephemeral flowers, meaning the flowers open only for a day. They are triggered by a drop in the temperature brought about by thunderstorms. Using temperature drop is a good way of synchronising the flowering of plants in the area, to ensure pollination despite the short flowering period. It is amazing and satisfying to see these and other wild flowers.
Another orchid that has ephemeral flowers is Dendrobium crumenatum, the pigeon orchid. Though it was not in flower, there was a plant with a seed pod. Plants were common and can be found growing on trees that line the motorways of KL.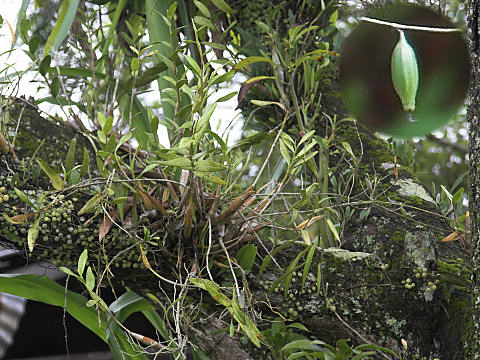 Dendrobium crumenatum plant in Bentong, insert is the seed pod.


See also: Dendrobium crumenatum
My next trip will be in November. I plan to visit more parks. This time I will also visit Singapore for the World Orchid Conference then lead a tour up Malaysia.